One Outs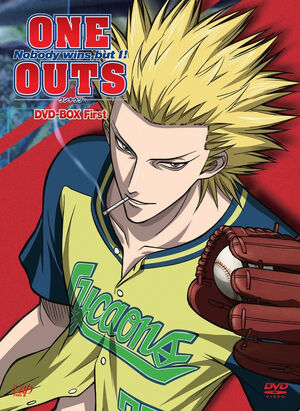 Information
Title:
One Outs (ワンナウツ Wannautsu)
Animation Work by:

Madhouse

Original Run:

October 7, 2008 – March 31, 2009

Episodes:

25

Genre:

Psychological / Seinen / Sports
One Outs (ワンナウツ, Wannautsu) is a Japanese baseball manga series by Shinobu Kaitani originally serialized in the seinen manga magazine Business Jump from 1998 to 2006. It was relaunched in Business Jump on October 1, 2008. An anime adaptation by Madhouse began airing on October 7, 2008 and ended on March 31, 2009 with 25th episode.
The story begins when Kojima Hiromichi, the star batter of the fictional Lycaons in Japan's Pacific League, heads to the southern Japanese island of Okinawa to train and bring himself out of a slump. There, he meet Tokuchi Toua, a 134-kmph (83 miles per hour) pitcher and the undisputed king of a gambling form of baseball called One Out. At Kojima's urging, Tokuchi signs up with the Lycaons under an unusual contract: he gets 5,000,000 yen (about US$ 46,000) for every out he pitches, but loses 50,000,000 yen (US$ 460,000) for every point he gives up.
Original Work: Kaitani Shinobu
Direction: Satou Yuuzou
Series Composition: Takayashiki Hideo
Main Character Design: Umehara Takahiro
Character Design: Hinata Masaki, Sakurai Kunihiko, Takada Haruhito
Chief Animation Direction: Hinata Masaki, Sakurai Kunihiko, Takada Haruhito
Action Animation Direction: Koujina Hiroshi
Music: Matsumoto Akihiko
Music Producer: Sengoku Kazunari
Sound Direction: Honda Yasunori
Editing: Terauchi Satoshi
Art Direction: Ueno Hideyuki
Colour Design: Horikawa Yoshinori
Photographic Direction: Fujita Kenji
Animation Producer: Mita Keishi
Producer: Nakatani Toshio, Tamura Manabu
Planning: Fujimoto Suzuko, Hirayama Hiroshi, Maruyama Masao
Planning Assistance: Business Jump Henshuubu (Shueisha`s Business Jump Editorial Department)
Animation Work: Madhouse
Production & Publication: D.N. Dream Partners, Madhouse, Nippon Television Network, VAP
Script/Screenplay: Takayashiki Hideo, Hirota Mitsutaka
Storyboard: Satou Yuuzou, Ikeda Shigetaka, Yajima Tetsuo, Oonogi Kazuki, Sasaki Nanako, Hosoda Masahiro, Yoneda Kazuhiro, Iwaki Tadao, Sasaki Mamoru, Niidome Toshiya, Sasaki Shinsaku, Sakata Jun`ichi, Yokoyama Akitoshi, Yano Hiroyuki
Episode Direction: Yoneda Kazuhiro, Ikeda Shigetaka, Yajima Tetsuo, Oonogi Kazuki, Sasaki Nanako, Hosoda Masahiro, Murata Naoki, Kim Min-Seon, Hirao Miho, Nakagawa Satoshi, Satou Yuuzou
Animation Direction: Koizumi Hatsue, Takahashi Mika, Shigeta Susumu, Nishioka Yuuki, Sasaki Masahiko, Kanno Tomoyuki, Satou Riku, Lee Jeong-Gwon, Kikuchi Ai, Kurata Ayako, Kim Bo-Kyeong, Kim Dae-Hun, Hinata Masaki, Kim Pil-Gang, Ko Gyeong-Nam, Hosoi Mieko, Muratani Takashi, Sakurai Kunihiko, Takada Haruhito
Community content is available under
CC-BY-SA
unless otherwise noted.