Welcome to One Outs Wiki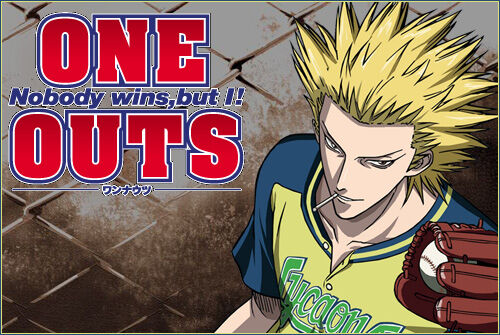 Welcome to the One Outs Wiki, a Wiki dedicated to everything about One Outs series that anyone can edit. Please help us by creating or editing any of our articles!
We currently have
1,987
edits to
228 articles
and
216 images
on this wiki.
Introduction
Kojima Hiromichi, the star batter of the fictional Lycaons in Japan's Pacific League, heads to the southern Japanese island of Okinawa to train and bring himself out of a slump. There, he meet Tokuchi Toua, a 134-kmph (83 miles per hour) pitcher and the undisputed king of a gambling form of baseball called One Out. At Kojima's urging, Tokuchi signs up with the Lycaons under an unusual contract: he gets 5,000,000 yen (about US$ 46,000) for every out he pitches, but loses 50,000,000 yen (US$ 460,000) for every point he gives up.

Featured Article
Toa Tokuchi is one of the main characters in the series, One Outs. In the beginning he was part of a gambling game based on baseball called 'One Outs'. After losing a game of One Outs to the cleanup batter for the Lyacons, Hiromichi Kojima, he becomes the star pitcher for the team. Tokuchi is usually seen as a laid-back, disrespectful person. He doesn't seem to be bothered by ordering around others or being trash talked to.

...Read more
Affiliates
If you would like to become an affiliate of One Outs Wiki, contact us.